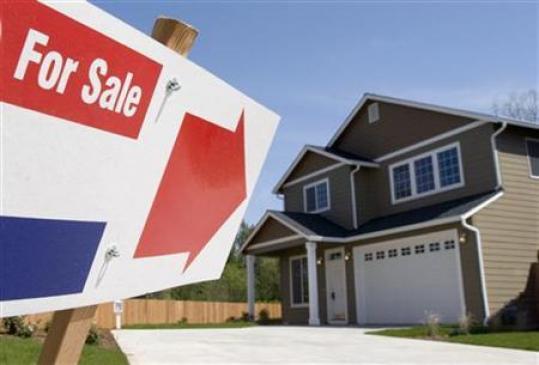 Fewer Americans Plan to Buy Soon, Putting Off Bottom
Home prices are falling at an accelerating pace, new data show, while a separate report found a shrinking share of Americans plan to buy a home anytime soon, suggesting more price declines in the months to come.

The Standard & Poor's/CaseShiller index for the first quarter showed prices for existing homes nationwide declined 14.1% from a year earlier, compared with a year-to-year drop of 8.9% in the fourth quarter.

A separate S&P index that tracks 20 major metropolitan areas on a monthly basis showed home prices dropped 14.4% in March from a year earlier and 2.2% from February.

Meanwhile, sales of new homes last month rose 3.3% from March. But sales remain well below year-earlier levels and, with a glut of unsold homes on the mar- . ket, any significant improvement in the market remains down the road.

The steepest declines in home prices came in cities that had experienced the sharpest run-ups this decade; prices in Las Vegas fell 25.9% in March from a year earlier, compared with declines of 24.6% in Miami and 23% in Phoenix.

Prices rose in just two cities: Charlotte, N.C., and Dallas. In Charlotte, prices increased 0:2% in March from February and 0.8% from a year earlier, the only annual increase among the 20 cities surveyed. In Dallas, prices increased 1.1% in March but declined 3.3% from a year earlier.

David Blitzer, who oversees indexes at S&P said a turnaround in prices won't be visible until several more cities start showing monthly price rises. "Given the massive amount of supply that's out there, I'm not convinced we're at the bottom yet," Mr. Blitzer said. "It'll be at least a few more months."

Home prices nationwide are now 16% below their peak in the second quarter of 2006. Prices rose almost 90% from the beginning of this decade to that peak and now are at levels seen in the third quarter of 2004.

Despite the declines, prices are still almost 60% higher than at the start of the decade.

Many analysts expect prices to decline an additional 10% or more before hitting bottom as the housing market is battered by tighter lending standards and a wave of foreclosures that is boosting supply.

The rise in sales of new homes, which is a smaller part of the market than existing homes, doesn't mean the housing market has hit bottom.

The 3.3% gain, to a seasonally adjusted annual rate of 526,000, was partly offset by a downward revision of the March figure, which dropped 11%, rather than the 8.5% initially reported. On a year-to-year basis, new-home sales were down 42% from April 2007, the Commerce Department said.

The median price of a new home rose 1.5% to $246,100 in April from $242,500 a year earlier. But the gains aren't expected to continue, given the glut of unsold homes. Inventories fell 11,000 to 456,000, but that still represents 10.6 months of supply.

Consumers' expectations about the economy has grown especially pessimistic. The number of people expecting their incomes to decrease during the next six months outweighed those expecting gains. Assessments of labor-market conditions also worsened, with fewer people saying jobs are plentiful.


Consumers' souring mood about the economy is contributing to the weak outlook for housing. In a survey of 5,000 households by the Conference Board, just 2.1% of respondents said they plan to buy a home in the next six months, down from 2.5% last month and 3.4% in March. However, if you are selling your home, many experts would recommend a home warranty. Home warranties make a home look better to a potential buyer, which retains and improves the value of a home. If the home you are selling is warrantied, the new home owners are protected against many unexpected repairs and replacements of items in the home.

The housing market in general may be weak at this point in time, but there are many individuals who are looking to buy a home, due to the major drop in pricing.